Your Award Winning Home Care Services
Rated as outstanding by the CQC in our first year and awarded Best New Business in Shropshire 2019 at the Shropshire Chamber of Commerce Business Awards.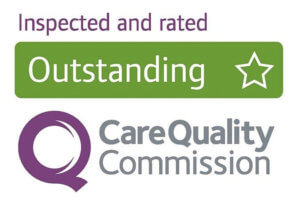 AStar Homecare are an award winning, family run home care business, who put people before profit.
We understand, most people don't want to go into residential care, away from family, friends, pets. We offer a friendly alternative by providing support care at home for as little or a long as you or a loved one needs. We ensure our home care service is a positive experience by providing the very best, highly trained team of carers who respect your views and listen to what YOU want – view our recent outstanding CQC report here.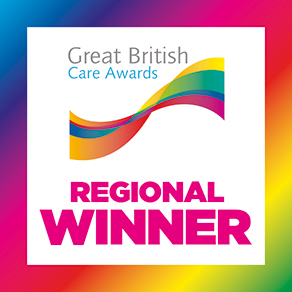 We support you to be as independent as possible and focus on what you CAN do and achieve positive outcomes. Our team are carefully selected based on the "mum test", If they couldn't support our loved ones, we won't have them support yours.


We don't make promises we can't keep so an initial visit to find out what home care support you need, how often you need the support and what the cost would be will provide you with the answers you need to make a decisions and its free!
Award winning home care for Shropshire and Cheshire – A bespoke, professional service designed to suit you
Positively improving lives across Shropshire and Cheshire
A brighter alternative to residential care
AStar Homecare is proud to offer, a unique caring, responsive, effective, well-led, safe home care service that is tailored to your own unique needs.
Speak to one of our excellent advisors about your home care requirements on 01948 302131, we'd be delighted to help you.
We offer the support, empowerment and encouragement to live life as comfortably and independently as possible in your own home.
We believe people have the right to choose where they wish to spend the last days of their lives with family close by.
Dementia care and support helps you to have the support needed to carry on living in the place you know and love, your own home.
Respite care breaks are an opportunity for carers to take a holiday or simply spend some time looking after their own needs.
Let Astar Homecare support your needs to relearn the skills required to keep your loved ones safe and independent at home.​
Everyone should be able to be supported without the fear of judgment, transphobia, biphobia, discrimination, homophobia or stigma.
Providing exceptional care in your home
As a family run home care company, you will personally meet me, Gill Holden, Director and Registered Manager of AStar Homecare Services and often speak with Adam Holden who is at the office. We personally ensure all our team are trained to our high standards so you receive a personal and professional care at home service.
From Our Home Care Individuals
We ensure our home care service is a positive experience by providing the very best, highly trained team of carers who respect your views and listen to what YOU want.
"Exceptional staff & Managers. The care and compassion given to my husband is fantastic. He is only in his early 50's but disabled and can't speak, they communicate with him, encouraging and motivating him to do as much for himself as possible. They follow an extensive programme of exercise and movement with him daily. It's lovely to hear him laugh and the staff have really got to know him as a person. They always go above and beyond, nothing is ever too much trouble. They are as their name states ASTAR."
"WE as a family never imagined that we would be able to find such a dedicated team of carers who would enable our mum to live in her own home at 96! The team is driven by the commitment, determination and professionalism of Gill and Adam Holden, who themselves work as part f the team, ensuring that they know and understand the individuals needs. They show commitment to the welfare of their team and this is reflected in the quality of care and communication shown by all staff. Above all the staff care about their clients and all show enjoyment of the job.. As a family we feel fully involved in mums day to day care and feel that the carers have become part of our extended family. From all of mums family far and wide. THANK YOU!"
"AStar began their care for me 16 months ago after a short hospital stay- They started with only a days' notice and have been totally reliable, arriving promptly to time every morning . All of the caring staff are cheerful, caring, and very professional in their work, nothing is too much trouble and they note everything necessary in a log book. Every day I know who to expect as I get a rota with pictures and I really look forward to their visits, meaning a good happy start to each day."
"Mum has been receiving care from AStar since the beginning of December 2018. Initially, I was very apprehensive about choosing a care company, but one of the owners (Gillian) came to visit us and put us entirely at ease. Since that time, we have been delighted with the service provided by AStar. All mum's carers are pleasant, professional, reliable and thoughtful people and mum loves them too. They are all well trained and briefed about mum's care needs. They also go above and beyond their duties when needed. Overall, AStar provide an excellent level of care. What I also like is that the owners (Adam or Gillian) share the caring for their clients from time to time, so they are aware as to what care is needed for each client. I cannot speak highly enough of them and would have no hesitation in recommending them to anyone..​"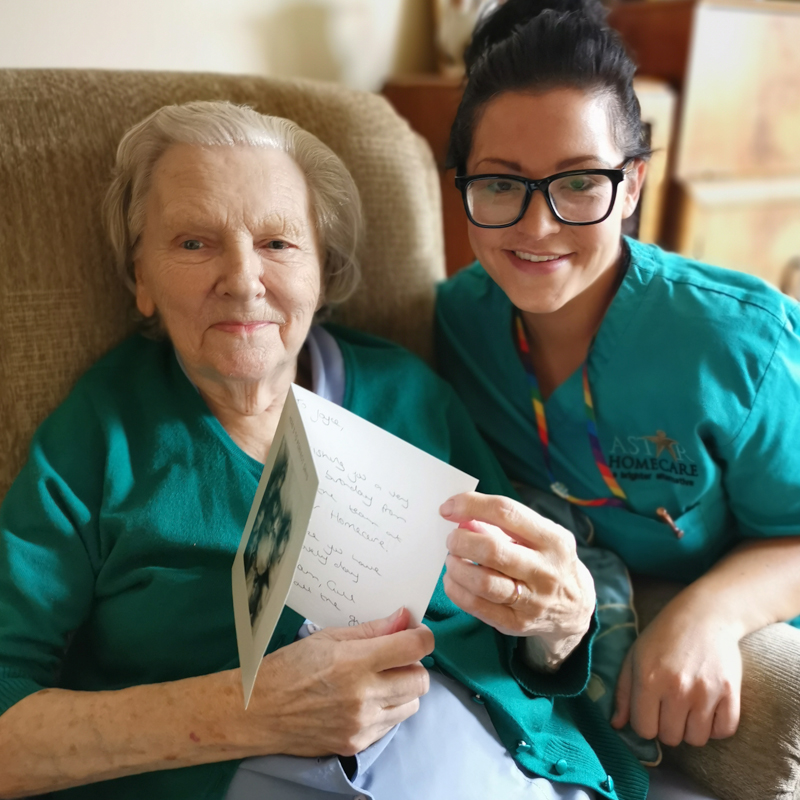 Why choose AStar Homecare
AStar Homecare is a brighter alternative when you or your loved one are struggling with the challenges of living at home, often alone. With a team of highly trained, professional carers, we will provide a bespoke home care package for you with reassuring continuity and all the comforts of home, where life can go on with a reliable normality.
Stay in the comfort of your own home
Bespoke support plan designed to suit you
Rated Outstanding in the first year
Awarded Best New Business in Shropshire 2019
Fully qualified team of carers and managers trained by award winning trainers
Caring, compassionate and happy team
Strive to go the extra mile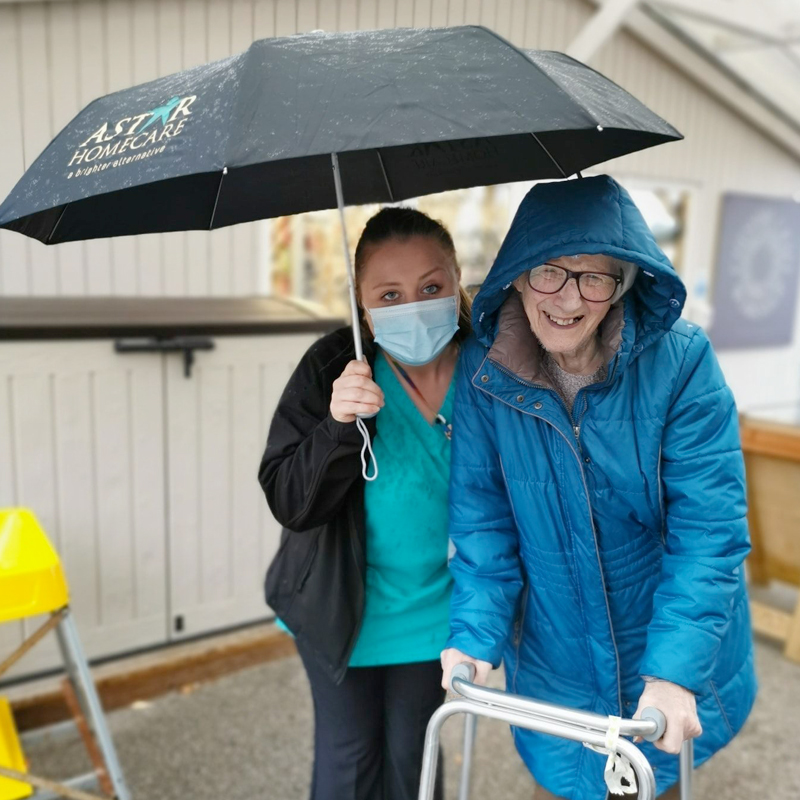 Our award-winning home care service is as unique as you are. Whether you need supporting a few hours a week, a few hours daily, overnight or 24 hours care we can provide a package of support that will suit your needs.
Experienced, fully trained team
All our team undergo an enhanced DBS check
Fully Insured
English Speaking
Person Centered support plans
Family values-based service
All the team live locally so we can provide an efficient, responsive service
Your Award winning care services
Rated Outstanding by the CQC in our first year and awarded Best New Business in Shropshire 2019 at the Shropshire Chamber of Commerce Business Awards.
AStar Homecare Would Love to help you

Say Hello!
For many people, care and support at home is a wonderful, welcome alternative to residential care. Our specialist home care service provides one-to-one support tailored to suit you, and in many cases is financially more beneficial.